Utilising state of the art technology
Let us supply you with the right packaging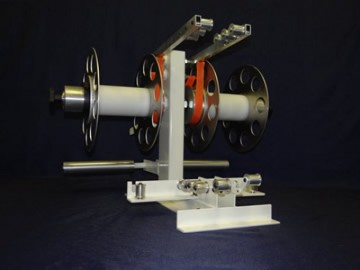 Utilising state of the art technology, SJA can produce spools and pads from a wide variety of materials on both 12 and 24 head spooling machines.
These machines have the range and flexibility to enable SJA to consistently meet the needs and expectations of customers from different industries and, in many instances, revolutionise their production throughput.
Machines using traditional pads of around 2,500 metres can be converted to use spools of 20,000m giving an enormous reduction in downtime previously caused by reel changes.
Where spools replace pads they need to be unwound for the customers' production process and this can now be easily achieved utilising cost effective single or double-head De-Spooling units built by SJA Film Technologies. These units not only allow the film to unwind in a straight line they also control the unwind tension allowing for greater precision in the final process.
When spools are used in conjunction with these user-friendly De-Spooling Units customers can achieve huge savings because of reductions in both downtime and scrap.

We supply our valued customers the right product on time, every time!
If you can't find the service or product that you are looking for on this page, why not take a look at some of the other products that we supply at SJA Film Technologies below!
Need Advice? Request a call back today!
If you would like to speak to a dedicated member of the SJA Film Technologies team about the services that we offer in more detail, simply provide us with a few quick details by completing the form below and contact our team today!